Motor and Casco insurance
{{cmsFields.holdingDisabilityCertificate.title}}
{{cmsFields.specialCarUsage.title}}
{{cmsFields.keylessCar.title}}
{{cmsFields.leasingContract.title}}
I am informed and agree to the BTA Privacy Policy
{{ appendCmsFields("{\"plateNumber\":{\"name\":\"plateNumber\",\"enabled\":\"1\",\"label\":\"Plate number\",\"title\":\"\",\"placeholder\":\"307RTB\",\"value\":null,\"items\":[],\"required\":\"\",\"tooltipster\":{\"title\":\"\",\"description\":\"\",\"enabled\":false|c|,\"vehicleOwnerIdentification\":{\"name\":\"vehicleOwnerIdentification\",\"enabled\":\"\",\"label\":\"\",\"title\":\"\",\"placeholder\":\"\",\"value\":null,\"items\":[],\"required\":\"\",\"tooltipster\":{\"title\":\"\",\"description\":\"\",\"enabled\":false|c|,\"specialCarUsage\":{\"name\":\"specialCarUsage\",\"enabled\":\"1\",\"label\":\"\",\"title\":\"Special car usage\",\"placeholder\":\"\",\"value\":null,\"items\":[],\"required\":\"\",\"tooltipster\":{\"title\":\"\",\"description\":\"\",\"enabled\":false|c|,\"specialCarUsageType\":{\"name\":\"specialCarUsageType\",\"enabled\":\"\",\"label\":\"\",\"title\":\"\",\"placeholder\":\"\",\"value\":null,\"items\":[],\"required\":\"\",\"tooltipster\":{\"title\":\"\",\"description\":\"\",\"enabled\":false|c|,\"holdingDisabilityCertificate\":{\"name\":\"holdingDisabilityCertificate\",\"enabled\":\"\",\"label\":\"\",\"title\":\"\",\"placeholder\":\"\",\"value\":null,\"items\":[],\"required\":\"\",\"tooltipster\":{\"title\":\"\",\"description\":\"\",\"enabled\":false|c|,\"disabilityCertificateNumber\":{\"name\":\"disabilityCertificateNumber\",\"enabled\":\"\",\"label\":\"\",\"title\":\"\",\"placeholder\":\"\",\"value\":null,\"items\":[],\"required\":\"\",\"tooltipster\":{\"title\":\"\",\"description\":\"\",\"enabled\":false|c|,\"keylessCar\":{\"name\":\"keylessCar\",\"enabled\":\"\",\"label\":\"\",\"title\":\"\",\"placeholder\":\"\",\"value\":null,\"items\":[],\"required\":\"\",\"tooltipster\":{\"title\":\"\",\"description\":\"\",\"enabled\":false|c|,\"leasingContract\":{\"name\":\"leasingContract\",\"enabled\":\"\",\"label\":\"The leasing contract is valid\",\"title\":\"\",\"placeholder\":\"\",\"value\":null,\"items\":[],\"required\":\"\",\"tooltipster\":{\"title\":\"\",\"description\":\"\",\"enabled\":false|c|,\"agreePrivacyPolicy\":{\"name\":\"agreePrivacyPolicy\",\"enabled\":\"1\",\"label\":\"\",\"title\":\"\",\"placeholder\":\"\",\"value\":null,\"items\":[],\"required\":\"\",\"tooltipster\":{\"title\":\"\",\"description\":\"\",\"enabled\":false|c|}") }}{{ applyExternalValueOnModel('nextStepUrl', '/en/private/auto-insurance/policy-price-and-options') }}{{ applyExternalValueOnModel('errorCodeSuffix', '') }}{{ applyExternalValueOnModel('leasingCompanies', JSON.parse('[]')) }}{{ vehicleSumInsuredLimits.setLimits(JSON.parse('[]')) }}{{ applyGeoIpRestriction(false) }}{{ applyTranslationType('transport') }}
Motor and Casco insurance in minutes!
Additional bonus online
Monthly payment option
Diverse selection of additional covers in casco
Additional information and insurance terms
Casco insurance
Flexible insurance coverage - in addition to All-risk Insurance, we offer a range of additional coverages.


BTA offers BTA Road Assistance for cars, vans and motorcycles at no extra charge. The transport and towing costs of a vehicle with a higher registered weight are reimbursed by up to 10% of the sum insured.


In the event of glass damage, the deductible does not apply. In addition to the vehicle's windshield and interior glass, BTA also reimburses the glass of lights and mirrors without the deductible - in the event of a stone or other falling object, the costs of replacing or repairing the glass surfaces of the lights and mirrors (without housing). Sunroofs and glass roofs are not considered glass.


Key insurance is included in the All-risk Insurance cover and is valid in cases where your key is broken, lost or stolen and needs to be replaced.


The sum insured for accessories installed after the initial sale is €1300.
Additional risks
New value insurance - for vehicles that were registered no later than one year ago and whose mileage does not exceed 30,000 km, BTA will indemnify the purchase price of a new vehicle similar to the insured vehicle in the event of an insured event.


Deductible free claims handling - with the first claim, the damage is indemnified without the deductible if it is a traffic accident where the circumstances are clear and two vehicles were involved.


Repairs at the manufacturer's authorised repair shop - if you want to have the vehicle repaired by the manufacturer's authorised representative and make sure that only original spare parts are used during the repair.
Motor Insurance
In order to feel carefree on the road, we offer the opportunity to purchase BTA Road Assistance for a symbolic fee from Motor Insurance.


We issue a digital Green Card free of charge with a Traffic Insurance policy. If desired, this can be ordered in printed form and delivered by post by calling +372 5 68 68 668 or sending an e-mail to bta@bta.ee.


If you are the injured party of a traffic accident, contact your insurer to compensate the damage! If the damage is less than 10,000 euros, people have not been injured and the circumstances are clear, BTA will handle your claim and arrange the necessary repairs.
With BTA traffic insurance, we indemnify damages caused to others by your vehicle in accordance with the provisions of the Traffic Insurance Act.
The sum insured per insured event occurred in Estonia is 1 200 000 euros in the case of material damage and 5,600,000 euros in the case of personal injury.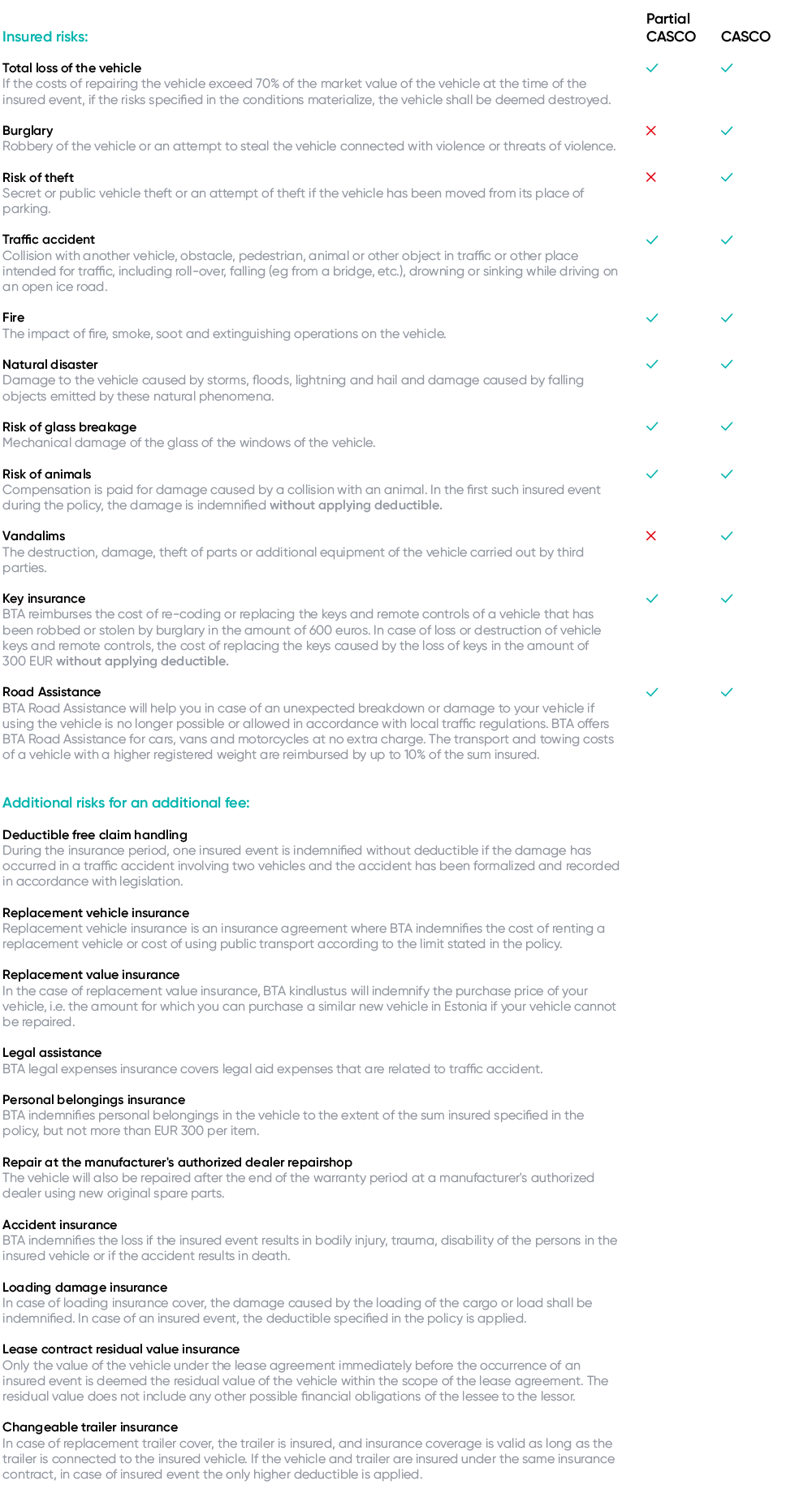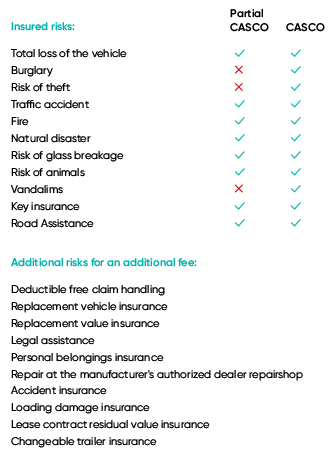 For vehicles with a registration weight not exceeding 3500 kg, BTA Road Assistance services are free of charge in Casco, but by purchasing only Traffic Insurance, you can also choose the BTA Road Assistance service.

BTA Road Assistance is only one click or a phone call away 24 hours a day. Call +372 5 68 68 668 if you need:
Telephone consultation
Technical and start-up assistance
Helping out of sand, mud or snow
Delivery of motor fuel
Back-up key retrieval
Tire change
Blocked doors opening
Vehicle transportation (evacuation)
Taxi service
Replacement car
Assistance in filling in the accident report form

Call our customer service on +372 5 68 68 668 if there is an accident on the road and you need help solving the problems mentioned above.
The coverage of the Motor Insurance policy is valid in the Republic of Estonia and the Contracting States of the European Economic Area.
The scope of online Casco insurance is Europe (geographical area), except for Russia, Belarus and Ukraine. If you want to purchase a policy with coverage in another area, please contact our customer service by calling +372 5 68 68 668 or sending an e-mail to bta@bta.ee.
The Green Card is an international document that confirms the existence of Motor Insurance when traveling abroad. The green card is only required if you want to travel to the following countries: Albania, Andorra, Azerbaijan, Belarus, Bosnia and Herzegovina, Israel, Iran, Macedonia, Morocco, Moldova, Montenegro, Russia, Serbia, Tunisia, Turkey and Ukraine. The Green Card is issued free of charge for the duration of the policy.

As of June 1, 2023, the green card issued to Estonian vehicles is not valid in Russia and Belarus. As a result, from 1 June 2023, road users will have to buy border insurance to cross the border.
In taking care of the security of the customer's car, we evaluate its anti-theft equipment and systems before concluding a Casco Insurance policy.

When insuring the vehicle, you must have two keys with a factory immobilizer and two alarm control systems. The alarm must be audible and visual and respond to the opening of the doors, bonnet and luggage compartment.

Certain models and brands, as well as exclusive and expensive cars, require an additional anti-theft device. These are, for example, a secret switch, an additional immobilizer, a radio tracking/tracing system.

If you have additional questions, please contact our customer service by calling +372 5 68 68 668 or sending an e-mail to bta@bta.ee.
When traveling for business or pleasure, do not forget:
to take traffic and comprehensive policies with you and check their validity;
to find out if the policy area is as required by the laws of the country you are traveling to.

Green Card must be included if you plan to travel to the following countries: Albania, Andorra, Belarus, Bosnia and Herzegovina, Croatia, Israel, Iran, Macedonia, Morocco, Moldova, Montenegro, Russia, Serbia, Tunisia, Turkey and Ukraine.

If an accident occurs:
call BTA on +372 5 68 68 668;
report the accident;
request advice on how to proceed in accordance with local laws regarding notifying the circumstances of the accident to the local authorities (police etc.) and preparing other necessary documents.

If you have valid Casco Road Assistance, please also inform BTA of the need for car assistance.
The insurance price depends on:
Information on the owner/responsible user obtained from the population register
Insurance history
History of losses
Type and use purpose of transport
Technical characteristics of the vehicle