The employees of international companies know: if Guntis in Riga feels under the weather, he goes to the doctor the next day, but his colleague Urmas in Tallinn gets some ibuprofen and goes to work for four weeks when ill before he gets to see a doctor. The biggest class of insurance in Latvia – and Europe – which is health insurance of employees, is more and more often included in the motivation packages offered by Estonian companies as well.
"The number of workplaces where people are only recruited and kept with money, is dwindling," emphasised product manager of the Estonian branch of BTA Insurance Company Mihhail Prokopjev. "Employers come to us when they understand that when there is a shortage of labour, keeping one's existing employees is even more important than recruiting new ones."
Employers look for motivators
According to Mihhail Prokopjev, companies who have started to systematically develop a valuable motivation package for employees come to him to talk about employee health insurance. "A motivation survey of Estonian employees with more than one thousand participants showed that the most loyal employee is not the one with the biggest salary, but the one who feels that the employer trusts them and cares about the," said Prokopjev. "And the other way round as well – it's now low wages that most often drive people to look for a new job, but a bad atmosphere and attitude at the workplace."
Prokopjev says that surveys and life both show that one-off bonuses or "care" campaigns are not enough to create positive emotions and work relationships based on trust. "Managers must work hard every day to make going to work a pleasant experience, but it is their responsibility to build this like house, brick by brick," he emphasised. "Getting free things, such as a parking card, gym membership or theatre tickets, is something people appreciate just for a moment. Often, they don't even use these gifts."
Prokopjev has learned from his experience that companies are not looking for a magic wand for the establishment of a good work atmosphere, but they understand that people are motivated to make an effort at work by a set of wages, security, good atmosphere and responsibility. "That's when the come to BTA to talk about the health packages of employees," he specified. "Most of them think that offering additional health insurance to employees is a great idea, but I've always reminded after the contract is signed that even this does not replace a friendly 'hello' in the morning or the boss's sincere interest in how they're doing."
A bonus that's actually used
Additional health insurance that gives employees access to quick medical care for a fee, and also covers the risk of big medical bills, meets five important criteria from the employer's point of view. It's really necessary, really caring, lasting and affordable, and employees actually use it as well. "This insurance class is new in Estonia, but the employees of international companies have already noticed the better medical care offered to their Latvian colleagues, and request it from their Estonian managers as well."
Additional health insurance has become the largest insurance class in Latvia in recent years. "It's a fact that in Estonia, you almost always have to pay for timely medical care in the case of health issues that are not life-threatening," emphasised Prokopjev. "Doctors say that people therefore often postpone dealing with their health issues, especially regular health checks. But this means that instead of prevention, we have to deal with the consequences, which is always more expensive and difficult for people."
The clients of BTA who have insured the medical expenses of their employees also confirm this. Their experience shows that employees use the limits in their insurance package rather enthusiastically in the first year. "Health checks, fitness tests, dermatological checks, vaccines, dental treatment – all these are things that employees worry about, but have postponed for years," said Prokopjev. "We see that employees are particularly grateful for dental care cover, as dentists never see a mouth that doesn't need some work."
Health insurance also differs from gift vouchers and gym memberships because of the fact that the employer never has to worry whether the bonus they paid for will actually be used. "It's always used," said Prokopjev. "We can see that."
Fewer days off sick
According to Prokopjev, clients have admitted that insuring the medical expenses of their employees is the best thing one can get for the 400 euros per year that exempt from the fringe benefit tax. "This is more than being nice to your employees, this is also an investment," he emphasised. "Quick medical assistance as soon as a problem emerges as well as free vaccinations mean that employees take fewer days off due to sickness, when their work would remain undone or even worse, which the employer would have to pay for."
Prokopjev says that having an employee on average wages costs the employer about 100 euros per day. "If health checks, vaccinations and quick medical assistance help avoid just four days off sick per year, the employer is already winning," he noted. "In the case of a highly paid employee, just two prevented days off sick make up for the costs incurred during the entire year."
Additional stories and graphs
A bad work atmosphere is more likely to make employees join career portals than small wages
A motivation survey carried out among working people by Norstat revealed that good emotions are more likely to make an employee stay than high wages.
52% of the employees who rated the working conditions at their present workplace highly responded that they were not even thinking about changing jobs. 49% of the employees to whom high wages are the most important said that they were not considering changing jobs in the near future.
The applies to the opposite as well: wages are important to employees, but nothing is more likely to make people surf career portals than a bad atmosphere at work with little trust and responsibility. 28% of employees who find that their wages in their present job are too low are actively looking for a new job or ready to leave as soon as the first offer comes in. However, almost half of employees who are not satisfied with the lack of trust and concerned about the bad atmosphere at work are preparing to leave.
1000 people participated in the employee motivation survey carried out last year.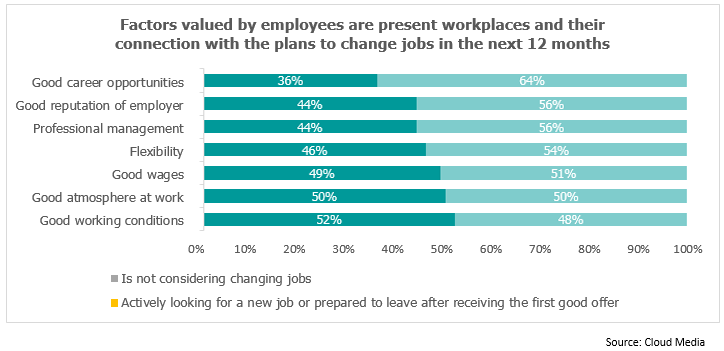 Packages
BTA offers several options for insuring the medical expenses of employees from covering three quarters of the expenses to 100% insurance coverage. All packages remain below the level of the fringe benefit tax, i.e. no additional income tax must be paid on them.

Outpatient services subject to indemnification
In our medical system, which basically is no longer free of change, additional health insurance guarantees quick medical assistance to employees in the case of problems and also motivated employees to prevent health issues. The experience of doctors says that even people who earn good wages often postpone the treatment they need because of the long waiting times or the fact that they must pay for the service, which in the end means higher expenses and more days off sick.

Inpatient services subject to indemnification
Inpatient care
Consultations with doctors
Analyses
Tests
Surgeries
Additional programs
Dental treatment
Prophylactic heath check
Outpatient rehabilitation
Paid services related to pregnancy and childbirth
Inpatient rehabilitation
Medicinal products
Optics